Within the content tab you will find all of the module's content elements, such as text, images and icons. Anything that controls what appears in your module will always be found within this tab.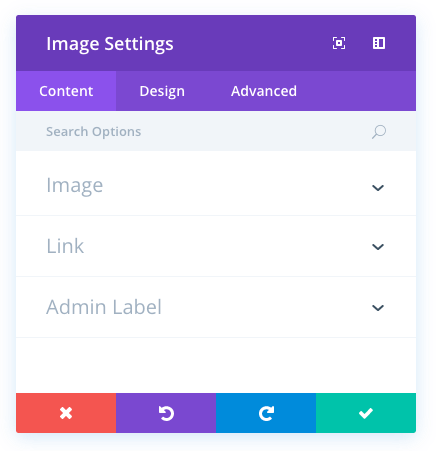 Image URL
Place a valid image url here, or choose/upload an image via the WordPress Media Library. Images will always appeared left justified within their columns and will span the full width of your column. However, your image will never scale larger than its original upload size. The height of the image is determined by aspect ratio of your original image.
Open In Lightbox
Here you can choose whether or not your image will open in a Lightbox when clicked. If enabled, then your image will "zoom in" to their full size when clicked inside a modal window. This is a great feature for portfolios.
Link URL
Place a valid web URL in this field to turn your Image into a link. Leaving this field blank will simply leave your image as a static element.
URL Opens
Here you can choose whether or not your link opens in a new window.
Admin Label
This will change the label of the module in the builder for easy identification. When using WireFrame view in the Visual Builder, these labels will appear within the module block in the Divi Builder interface.